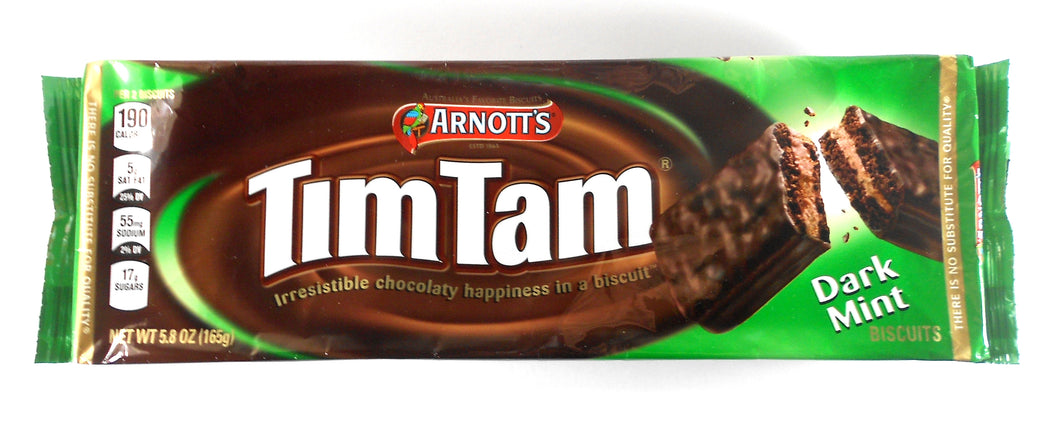 Australian Tim Tam Dark Mint Chocolate Biscuits by Arnott's 7 oz.
Regular price $11.95 Sale
Tim Tams are unarguably the most popular Australian chocolate biscuits cookies! It is also famous for the Tim Tam Slam. The Tim Tam Slam is an Australian coffee break ritual.
Arnott's Tim Tam is composed of two layers of chocolate malted biscuit, separated by a light chocolate cream filling, and coated in a thin layer of textured chocolate.  The cream used in Tim Tams is a delicate mixture of vanilla, butter and chocolate that complements the biscuit base and the chocolate. It's this unique cream which sets Tim Tam apart from any other chocolate biscuit. It is the most irresistible chocolate biscuits!!!
Do the Tim Tam Slam!  The method is simple:
First, have your hot coffee/ tea/ chocolate/milk ready in front of you.

Then bite off each end of the Tim Tam. Some like to bite only the two opposite ends.

Next, place one bitten end of the Tim Tam in your mouth and dip the other bitten end in the hot drink.

Now suck. Use the Tim Tam as a straw. As the hot drink is pulled through the biscuit, the structure of the biscuit and cream collapses.

Once you sense the drink on your tongue, pop the whole Tim Tam in your mouth, but you have to be quick!!!!